In Memory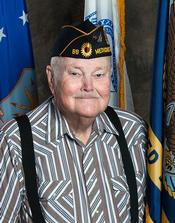 Owen Wayne "Frosty" Sill, Sr.
June 9, 1936 - January 4, 2012
Medicine Lodge- Owen Wayne "Frosty" Sill, Sr. 75, died Wednesday,
January 4, 2012 at Medicine Lodge Memorial Hospital, Medicine Lodge, Kansas.
He was born June 9, 1936 in Edmond, OK, the son of Theodore and Grace (Shadowens) Sill.
A resident of Medicine Lodge since 1968, he owned the Pageant Drive-in Theatre and Pastime Theatre,
Frosty's Donut Shop, Sill Oil Company, The Trading Post and Auction Barn,all in Medicine Lodge.
Frosty also drove a school bus and activity bus in Medicine Lodge and Sharon.
He was a member of the First Christian Church, Medicine Lodge; the Medicine Lodge Volunteer Fire Department (Ret.),
the Past-Post Commander of the American Legion #69, Masonic Lodge #77, and the Order of the Eastern Star.
He was a US Veteran having served in the U.S. Navy Reserves, Kansas Air National Guard and the Kansas Army National Guard.
On June 15, 1958 he married Wanda (Bushnell) Sill at Wichita, KS. She survives.
Other Survivors include three sons Owen Wayne (Lauren) Sill, Jr. of Hutchinson, KS;
Phillip (Shawn) Sill, Tribune, KS; Mike (Amy) Sill, Medicine Lodge, KS;
a daughter Linda (Joe) Leibham, Medicine Lodge, KS; and 9 Grandchildren,
Jonathan Sill, Owen (Jessie) Sill, Michele Sill, Clancy Leibham, Marty Leibham,
Laura Leibham, Nathan Leibham, Kara Sill, and Kyler Sill.
He was preceded in death by his parents.